Blog
Refresh to view updated Blog
(Click to view Training Blog)
26/03/13 - 06:08
We leave today! First flight at about 1 o'clock. Bye for 2 weeks! Keep up the donations!!
Listen to BBC Radio Gloucestershire today from 2.30 - 5.00 pm!
25/03/13 - 18:31
Listen to BBC Radio Gloucestershire tommorow from 2.30 - 5.00 pm. Coverage about the Expedition will be played then!
25/03/13 - 16:13
This morning there was coverage about the Expedition on Heart Radio, 102.4, and some clips of the interview. I will be interviewed by BBC Radio Gloucestershire today at 5 o'clock.
22/03/13 - 19:00
Yesterday afternoon an interviewer from Heart Radio came to interview me, the clips should be played on the 25th of March breakfast show, sometime from 6 am to 9am. Please listen, 102.4 FM or online. http://ukrp.musicradio.com/heart/gloucestershire/live
10/03/13 - 12:19
Me and my Dad leaving for training this morning. We covered about 5-6 miles.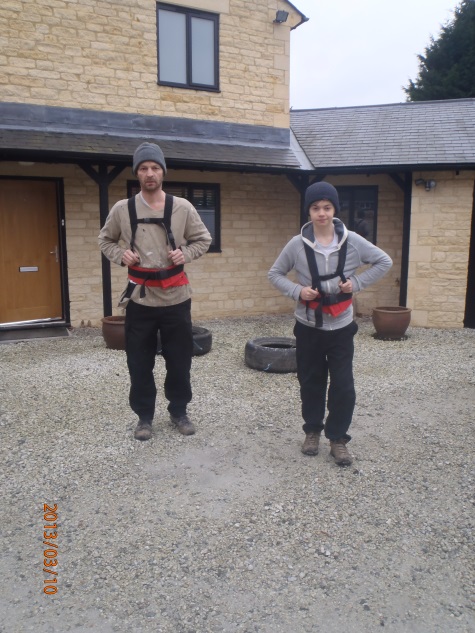 09/03/13 - 18:56
Here is a picture of some of the kit that Baffin Footwear and Apparel have generously sent to us!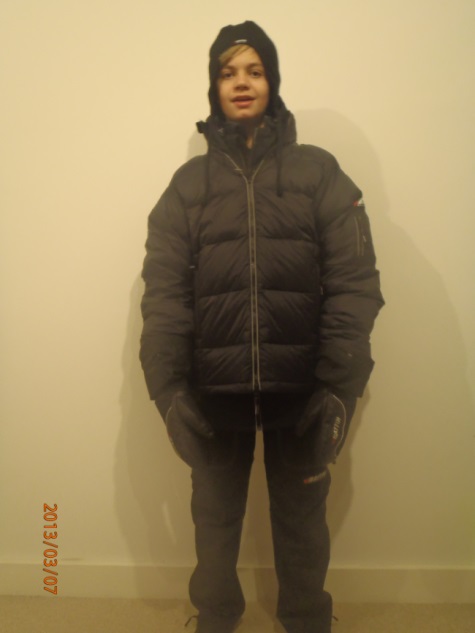 08/03/13 - 19:58
Today my Dad recieved a phone call from Help For Heroes, my Expedition will be featured in the April H4H magazine, look out for this!
08/03/13 - 19:55
The Headmaster of Queensbridge Primary School has created a website about great young people, he has decided to feature me first on his site, have a look: http://www.greatyoungpeople.com/about/
21/02/13 - 20:31
Last week we had several theory lessons with our expedition leader, these included: Polar Bear safety, Tent drills, Stove Drills and Firearms safety!
21/02/13 - 17:37
I have just been told that the expedition has been featured in the newsletter of The Tewkesbury Chamber of Commerce and Industry:
Sponsor Max's great adventure
The Chamber has received the following plea from Max Keene
"I am 13 years old and soon I will be attempting an Arctic Expedition in Northern Canada from 15th March - 7th April 2013 to raise money for Help For Heroes. I recently saw many injured servicemen and women competing at the Paralympic Games, I watched the inspirational TV programme 'Harry's Arctic Heroes', in which Prince Harry and a group of injured soldiers trek to the North Pole.
I think that the Injured Servicemen and women of our armed forces are an inspiration, they risk their lives to keep our country and other nations around the world safe and free, and when they get a limb blown off in battle they deserve the best support they can get....
So far, I have raised £2,629.75. My target is £50,000. If your business would like to sponsor Max's great adventure follow this link www.maxgoestothearctic.co.uk/How-You-Can-Help.html
25/01/13 - 21:54
Hi, I have just come across a Spanish Explorer website (it's name translated, is: Mountaineering and Exploration) that has posted an article about the Expedition! Have a look: http://montanismo.org/2013/con-13-anos-de-edad-cruzara-la-isla-de-baffin/
25/01/13 - 21:54
I hope everyone enjoyed the Festive Period and had a great New Year! Today ExplorersWeb put up an interview that they had with me, on to their website! http://www.explorersweb.com/ Click the link to go to their page! Max Keene
09/11/12 - 22:29
Tommorow I will be on Radio Winchcombe at around 4.30 . You can listen on 107.1 FM or online: http://www.radiowinchcombe.co.uk/ . Also the article was in the Echo today. Max Keene
08/11/12 - 17:56
Yesterday I was interviewed by the Echo. The article is online already and should be published in the newspaper soon! http://www.thisisgloucestershire.co.uk/12-year-old-Winchcombe-boy-youngest-Arctic/story-17266668-detail/story.html Max Keene
29/10/12 - 18:35
Novellini have kindly sponsored a flag for the benefit of Help For Heroes! Below is a picture. We will be taking this flag with us to the Arctic and will provide Novellini with pictures of it flying in the Arctic! Max Keene